Masks for MOMS: COVID-19 Response
Living through COVID-19 has been scary for all of us, but especially for those who are pregnant. To help make it a little less scary, Masks for MOMS wants to get reusable cloth face masks to the moms and moms-to-be who need them in the Chicago-land area. The aim of the Masks for MOMS campaign is to ensure that pregnant people and people in labor and delivery have access to face masks at their prenatal visits and when they arrive at hospitals for delivery.
The Centers for Disease Control and Prevention (CDC) recommends wearing masks where social distancing may be challenging to maintain to help slow the spread of illness. By working together, we can support pregnant Illinoisans and reduce the anxiety of going to doctors' appointments or the other necessary errands, especially if using public transportation.  Even though masks don't provide absolute protection from COVID-19, all individuals are encouraged by the CDC to wear masks when they leave their homes. People attending prenatal care visits in person and those about to give birth will also benefit from the reduced stress that is likely to come from wearing a mask in their interactions with their prenatal care providers.
While some people in Chicagoland (Chicago and its suburbs/surrounding counties) will have access to Personal Protective Equipment (PPE) because they are receiving care at larger better resourced health care centers and hospitals, many do not have such access. We are partnering with community-based clinics and strategic community sites to make them available during in-person clinician visits and labor and delivery.
Click here for more information about Masks for Moms and how the campaign works
How to get involved:

TO VOLUNTEER AND MAKE MASKS, COMPLETE THIS FORM:

We are currently looking for volunteers to help us make as many masks as possible. At this time, we have recruited enough volunteers to help with picking up and dropping off masks.

Want to get involved in the other ways Masks for MOMs is supporting our communities?

MASKS FOR MOMS has a new partner – TRES MIMI! The need for masks for pregnant and postpartum persons in many parts of Metro Chicago remains strong. If making masks is not your forte or time to make them is an issue, you can now purchase them through TRES MIMI. After your purchase, TRES MIMI will provide the masks to MASKS FOR MOMS for distribution throughout Chicagoland. Visit TRES MIMI for more information on how you can keep helping pregnant persons in need stay safe during COVID-19.

Want to make a donation for masks and materials?

If you would like to make a donation to help us purchase materials or reusable masks directly from community vendors, please click the button below.If you would still like to support families in the Chicagoland area and are not able to contribute masks or help with transporting masks you can consider supporting  Share our Spare. 
Check out some of our volunteers' fantastic work
THANK YOU to our MANY DONORS!
THANK YOU to our MANY DONORS!

.

Current Community Partner Sites:

CHICAGO SOUTH SIDE

Chicago Family Health Center

Christian Community Health Center
Esperanza Health Centers
Mile Square Health Center- South Shore UI Health

CHICAGO WEST SIDE

Access Madison Family Health Center

CHICAGO NORTH SIDE

PrimeCare Community Health

CHICAGO NORTH SUBURBS

CHICAGO SOUTH SUBURBS

Access Blue Island Family Health Center
Family Christian Health Center
We would love to see your masks too! Be sure to use #Masks4MOMsIL when you post pictures of your masks on social media and be sure to share with your family and friends!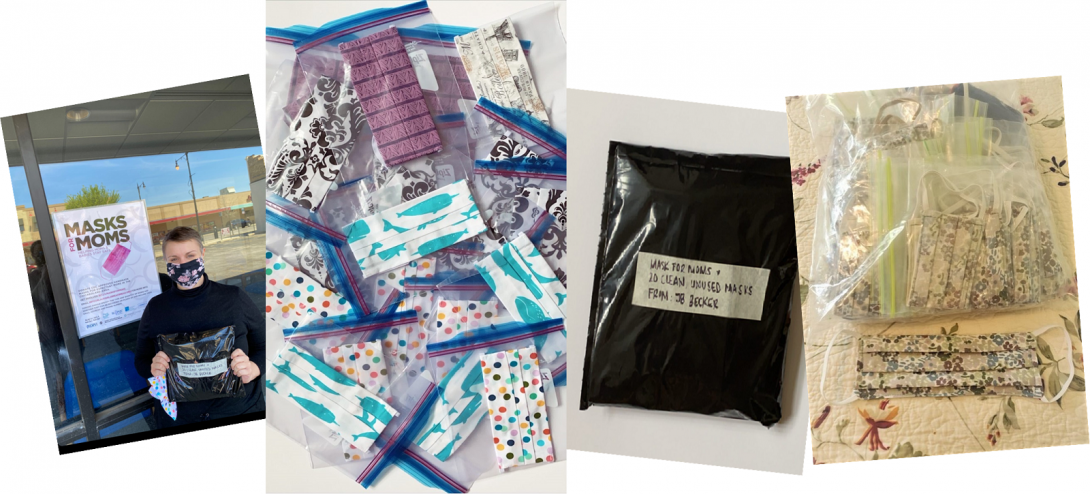 .
If you would like to help us with marketing, below are sample social media messages you can share.
Sample Facebook/LinkedIn Posts

General Announcement:

COVID-19 has changed the way we think about face-to-face interactions, but you should always have what you need to feel safe and secure throughout pregnancy. That's why Masks for MOMS is making sure Chicago-area moms and moms-to-be receive reusable cloth face masks they can wear out to clinic appointments and to run other errands.

We're activating a volunteer-based campaign in the Chicago-area to make and distribute reusable cloth face masks made per CDC guidelines. We are looking for campaign volunteers and support getting the word out. Find out more and join us in this mission here: https://bit.ly/masksforMOMs.

For the promotion of volunteering:

The Masks for MOMS campaign is ensuring Illinoisans who are pregnant or in labor and delivery have access to reusable cloth face masks, and we need your help!

Right now, we need volunteers to commit to making masks, as well as volunteers to pick up and drop off masks at Chicago-area clinics. Find out more and fill out the form here to join us in this mission: https://bit.ly/masksforMOMs.

tweets

#COVID19 has changed the way we think about face-to-face interactions, but you should always have what you need to feel safe and secure throughout pregnancy. #Masks4MOMsIL is aiming to get a reusable cloth face mask to every mom and mom-to-be in the Chicago-area. Find out more and join us in this mission here – https://bit.ly/masksforMOMs

Call for volunteers! We need CDC-approved handmade masks for expecting moms in the Chicago-Area. Join #Masks4MOMsIL as we ensure that pregnant Illinoisans have what they need to feel safe and secure during this journey – https://bit.ly/masksforMOMs