MCH Trainee Spotlight: Karissa Frazier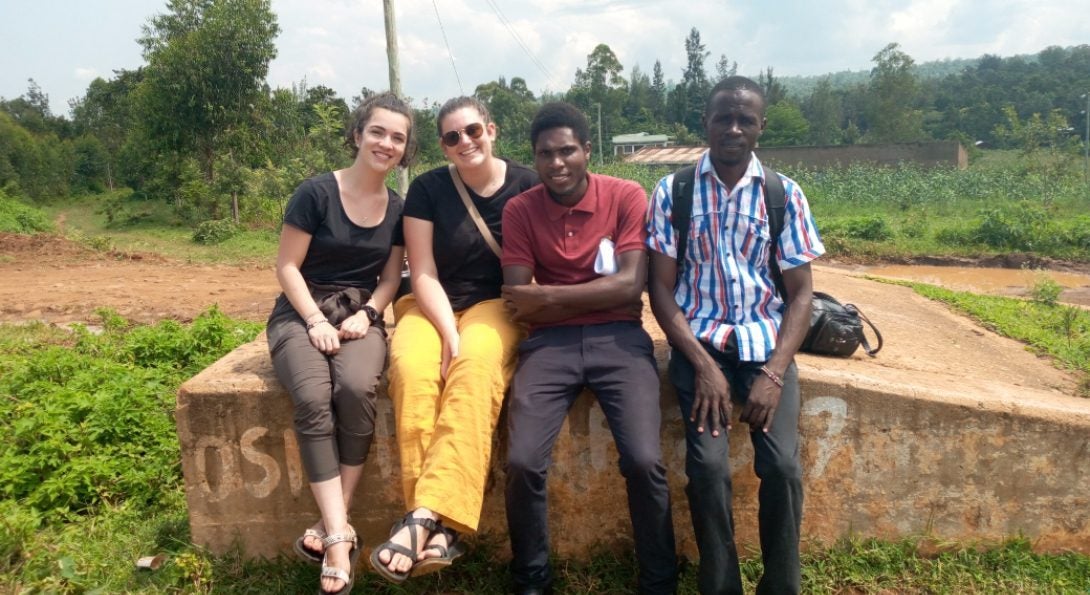 Introduction text
As part of a  three part series, we will spotlight UIC MCH trainees who completed their summer applied practice experiences (APE) in summer 2019. This week's spotlight will shine on Karissa Frazier, MPH candidate in MCH and Global Health, who was selected to participate in the UIC School of Public Health Kenya Program with Maseno University. Here is her experience, shared and written by Madison Levecke, an Irving Harris Scholar and a MPH candidate in MCH-Epidemiology.
Story text
Karissa did her field experience through the UIC SPH Kenya Program with Maseno University in Maseno, Kenya, right outside the larger city of Kisumu, Kenya. She was one of five students selected to go to Kenya, where she and another UIC MPH student were placed in Maseno. This was the first time that UIC directly worked with Maseno University and she was one of the first UIC students to work within the University.
Maseno University wanted to create a community health needs assessment for community sub-locations surrounding the University. Karissa was responsible for writing up questionnaires that would be distributed in the community. She assisted in the development of a household questionnaire and a women's health questionnaire, pulling questions from the Kenyan Demographic Health Survey, as well as including other questions that could impact health. The household questionnaire was about 40 questions long and focused on the general health and wellbeing of the household.  Examples of questions included aspects of where someone would go when they or a family member is sick, health insurance status, who their point of contact was within the community for health concerns and questions, and if they have running water or a toilet facility. The women's questionnaire was focused on women's health information. The survey included sections on sexual and reproductive history, contraception, nutritional status, and health perceptions. Additionally, Karissa and her team had to map out the community areas using GIS software, and they decided to focus on two areas near the University. Because of the language barrier between the UIC students and the community, undergraduate public health students at Maseno administered the surveys. After two and a half weeks, 400 households were surveyed and 600 total questionnaires were completed. This project moved along quickly, and Karissa and her teammates were able to input all of their collected data into a database they created.
I asked Karissa if she could identify three significant things she learned this past summer. First, she said that understanding how a community works is extremely important, especially if you are not from that specific community. Karissa also shared that she really appreciated the utilization of community health workers by the Kenya health system. One community health worker (CHW)  is assigned to work with 100 households. These CHWs go door-to-door to each household, and have a relationship with the community and the families they serve. Karissa stated that the CHWs helped lead them into the community, introduced those administering the surveys to the household, calling them an "invaluable asset" both for the project and for the community as a whole. Karissa also stated that she gained skills in creating a database, as well as using GIS software, which she had no experience with prior to this field experience. Finally, she is looking forward to seeing the impact this assessment will have on the community in the years to come.
Lastly, I asked Karissa to share some advice for those first-year students, like myself, just beginning their search for an Applied Practice Experience. She mentioned that if you have a global health concentration or having any interest in working on a global level, working in another country and in a different culture is once in a lifetime experience. While in Kenya for nine weeks, she fostered many meaningful relationships. These people expressed to her that she would always have a place to stay there no matter how long it's been. While abroad, Karissa blogged about her experiences, allowing her to help reflect and live in the present during this amazing opportunity.
Modified on September 25, 2020