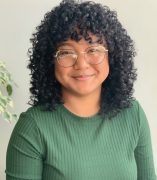 SJ Doi
MPH in Maternal and Child Health Epidemiology
Pronouns: She/Her/Hers
About
SJ Doi is a 2nd year MPH student in Maternal and Child Health Epidemiology. She received her B.A. in Neuroscience from Amherst College in 2018. Prior to beginning the MPH program at UIC, she worked as a labor support and postpartum doula in Chicago, with a focus on supporting communities of color as well as queer, trans and non-binary pregnant and postpartum persons. Additionally, SJ spent two years working as the Obstetrics & Gynecology Education Coordinator at Feinberg School of Medicine, where she managed the OBGYN third-year medical student clerkship and PA student women's health rotation at Prentice Women's Hospital and Stroger Hospital of Cook County. In this role, she co-developed a curriculum on the history of medical racism within obstetrics and gynecology and the relationship between structural racism and present-day disparities in maternal health outcomes. She is passionate about reproductive and birth justice, trauma-informed care and research, and finding ways to use data as a tool for advocacy in MCH.
While an MPH student at UIC, SJ has been a Research Assistant for the Illinois Breast and Cervical Cancer Screening Program Evaluation, Illinois Birth Justice, the UIC-OCEAN Healthy Start Program Evaluation, and an inter-governmental agreement with Illinois Department of Public Health on COVID-19 and pregnancy in IL. As a part of the MPH program, SJ completed an internship with the Data Analytics and Reporting team at Lurie Children's Hospital, analyzing Chicago-specific data on parental self-efficacy during the COVID-19 pandemic.
SJ's interests within Maternal and Child Health include: perinatal epidemiology, the pregnancy, postpartum and parenting experiences of LGBTQ+ persons, midwifery and doula care among communities of color, perinatal mental health, and access to preventative health services.
After completing her MPH at UIC, SJ plans to apply to nurse-midwifery school and pursue a career as a clinician-researcher.
Fun Fact- In her downtime, SJ enjoys spending time with her two dogs, knitting sweaters, and taking care of her houseplants.