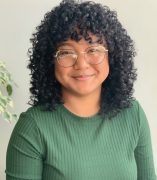 SJ Doi
MPH in Maternal and Child Health Epidemiology
Pronouns: She/Her/Hers
About
SJ's interest in maternal and child health began during her junior year at Amherst College, while she was working on a research project examining the intergenerational effects of toxic stress and racism on birth outcomes. Inspired by this project, SJ, along with two other students, organized the first doula training for students at Amherst College. After graduating with a BA in Neuroscience, SJ moved back to her hometown of Chicago and began working as a community-based doula, with a focus on supporting Black and Brown people of color as well as queer, trans, and nonbinary parents and parents-to-be.
Prior to beginning her MPH, SJ was also the Obstetrics & Gynecology Education Coordinator at Northwestern Feinberg School of Medicine, where she managed the Obstetrics & Gynecology third-year medical student clerkship and Physician Assistant student women's health rotation at Prentice Women's Hospital and Stroger Hospital of Cook County.
In this role, SJ co-developed a new curriculum for Feinberg medical students on the history of systemic oppression and medical racism within obstetrics and gynecology and the present-day racial disparities in maternal health outcomes. Additionally, she incorporated a combination of didactic teaching and case-based learning and the course was taught through a birth justice lens.
Perinatal epidemiology, medical education, intergenerational trauma, psychological birth trauma, postpartum health and wellness, perinatal mood disorders, racial disparities in MCH, access to affirming obstetric and gynecologic care for queer and trans people, reproductive justice, birth justice
SJ is interested in finding ways to use data to improve health equity and reduce perinatal health disparities. She is also passionate about reducing the harm and potential trauma individuals may experience throughout the different stages of receiving reproductive health care, particularly antepartum, intrapartum, and postpartum care.
Fun Fact- In her downtime, SJ enjoys spending time with her two dogs, knitting sweaters, and taking care of her houseplants.