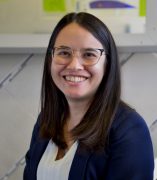 Naomi Harada Thyden, PhD, MPH
Postdoctoral Fellow
Pronouns: she/her
About
Dr.  Thyden is a social epidemiologist and interdisciplinary researcher who uses causal epidemiologic methods to study the effects of structural racism on population health and mortality. She earned her doctorate from the University of Minnesota School of Public Health's Division of Epidemiology & Community Health. She was also a predoctoral fellow in Population Health Science with the Minnesota Population Center.
Areas of expertise include structural racism, maternal and child health, injury prevention, public health policy, population health, higher education, mortality, and social determinants of health.
As a state epidemiologist Naomi coordinated Minnesota's Sudden Unexpected Infant Death surveillance system, created Minnesota's Sudden Death in the Young surveillance system, and led statewide infant mortality review panels. Naomi is a woman of color, fourth generation Japanese American, and dedicated to examining and dismantling systems of oppression through research, teaching, mentoring, and public health practice.
Selected Publications
Thyden NH, McGuire CM, Slaughter-Acey J, Warren JR, Widome R, Osypuk T. (in press) The long-term effects of attending Historically Black Colleges and Universities on depressive symptoms. American Journal of Epidemiology
Thyden, N.H., Schmidt, N.M., Joshi, S., Kim, H., Nelson, T.F. & Osypuk, T.L. (in press) Housing mobility protects against alcohol use for children with socioemotional health vulnerabilities: An experimental design. Alcoholism: Clinical and Experimental Research
Thyden NH, Schmidt NM, & Osypuk, TL (2020) The Unequal Distribution of Sibling and Parent Deaths by Race and its Effect on Attaining a College Degree. Annals of Epidemiology, 45, 76-82. PMCID: PMC7245560
Thyden, N, Quick M, Kinde M, Roesler J (July/Aug 2016) Sudden Unexpected Infant Deaths in Minnesota: Informing Prevention Strategies, Minnesota Medicine, 41 – 43.
Taylor N, Choi K, & Forster J (2015). Snus Use and Smoking Behaviors: Preliminary Findings From a Prospective Cohort Study Among US Midwest Young Adults. American Journal of Public Health, 105(4), 683-685. PMCID: PMC4358180
Selected Presentations
Naomi Thyden (session organizer and co-presenter), Odichinma Akosionu, Madison Anderson, J'Mag Karbeah, Cydney McGuire "There's no I in structural: Going beyond the individual in racism research" Interdisciplinary Association of Population Health Science Conference (virtual), October 2021