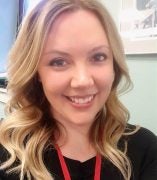 Tatia Hardy, MD
Fellowship in Adolescent Health
Pronouns: She/Her/Hers
About
Prior to medical school, Tatia worked for three years at the North Dakota Department of Health as the state's Vaccines For Children Program Coordinator. She completed her residency in Internal Medicine and Pediatrics at the University of Nebraska Medical Center and now is participating as a fellow in Adolescent Medicine at the University of Illinois Chicago.
Tatia is interested in socioeconomic determinants of health, racial disparities, adverse childhood experiences, health education, and how all of these areas can be addressed to improve individual- and community-level health. She has a special interest in healthcare in the corrections setting, particularly for adolescents in juvenile detention.
After her fellowship and completion of the MPH program, she plans to start her career as a specialist in Adolescent Medicine and to continue advocating for policies and legislation that aim to improve the lives of traditionally underserved communities.
Fun Fact- Tatia worked as an autopsy assistant for a year after graduating from college!