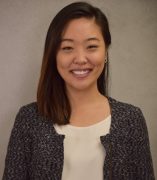 Minji M Kang, MPH
MCH Doctoral-level Trainee
Pronouns: She/Her/Hers
About
Minji is currently the Study Director for the DES Program at the University of Chicago and oversees multiple epidemiological studies monitoring the effects of diethylstilbestrol on pregnant women and their children from the 1950's. During her MPH program at the University of Michigan, she worked on research for the MiHealth MiChoice project, a mixed-methods study developing tools to improve contraceptive care for women with medical conditions.
Her areas of interest are reproductive justice, patient-provider relationship, implicit bias, and maternal mortality.
Selected Publications
Kang, M., Hasan, Y., Waller, J., Saulsberry, L., Huo, D. (2021) "Has hypofractionated whole breast radiation therapy become standard of care in the United States? An updated report from National Cancer Database" Clinical Breast Cancer, 16(9). doi: 10.1016/j.clbc.2021.05.016
Kang, M., Guetterman, T., Prussack, J., Ursu, A., & Wu, J.P. (2019) "Providing contraceptive care for women with medical conditions: A qualitative study to identify potential best practices for primary care physicians." Family Medicine, 51(7): 559-566. doi: 10.22454/FamMed.2019.499467
Wu, J.P., Damschroder, L.J., Fetters, M.D., Zikmund-Fisher, B.J., Crabtree, B.F., Hudson, S.V., Ruffin, M.T., Fucinari, J., Kang, M., Taichman S.L., Creswell, J.W. (2018) "A web-based decision tool to improve contraceptive counseling for women with chronic medical conditions in primary care: Protocol for a mixed methods implementation study." JMIR Research Protocols, 7(4): e107. doi:10.2196/resprot.9249.
Selected Presentations
Huo, D., Kang, M., Saulsberry, L., Hasan, Y. (2019) "Has hypofractionated whole breast radiation therapy become standard of care in the United States? An updated report from National Cancer Database". Poster presented at the 2019 San Antonio Breast Cancer Symposium, San Antonio, TX.
Wu, JP., Taichman, LS., Kang, M., Zikmund-Fisher, B. "A novel, theory-driven contraceptive decision tool for women with medical conditions: A mixed methods approach to intervention design". Poster presented at the 2019 Society of Family Planning Annual Conference, Los Angeles, CA