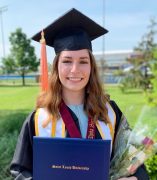 Maggie Kroeff
MPH in Maternal and Child Health
Pronouns: she/her/hers
About
As an undergrad at Saint Louis University (SLU), Maggie has interned at the Research Division of the SLU OBGYN Department. As part of her job she complied patient data on complex delivery cases seen by the Department for review and helped prepare materials for various IRB approved research projects. Maggie spent this past summer interning at the Illinois Perinatal Quality Collaborative (ILPQC) as a part of her Applied Practice Experience. During this time, she participated in the development of toolkits for various ILPQC projects and analyzed quality improvement measures across hospitals relating to topics including promoting vaginal birth and caring for newborns with neonatal abstinence syndrome. In addition, she currently works as a research assistant for Dr. Velonis here at the CoE-MCH. As a research assistant, Maggie studies the efficacy of state teams across the country in their goal to implement systems changes in the field of maternal opioid use disorder and neonatal abstinence syndrome. This includes researching state policies and analyzing qualitative data from state team interviews.
Maggie is interested in inequities in maternal and infant morbidity and mortality, the opioid epidemic's impact on maternal and child health, access to postnatal care, and adverse childhood experiences.
In the future, she hopes to be involved in quality improvement work at the state or local level.
Fun Fact - It is Maggie's goal in life to visit all of the US National Parks! She currently has only been to three but she is hoping to knock a few off the list after graduating.