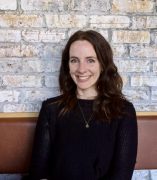 Liz Lamere, RN
MPH in Maternal and Child Health Epidemiology
Pronouns: She/Her/Hers
About
Liz is a second year MPH student studying Maternal and Child Health Epidemiology. Liz received her BSN from North Park University in Chicago, and subsequently worked as a nurse in a Chicago area hospital and clinic. Most recently, she worked as a Nurse Manager for a Chicago Federally Qualified Health Center, overseeing seven School Based Health Centers (SBHCs) in Chicago Public Schools. In addition to managing staff and operations, she led staff to successfully increase access to LARC, high quality contraceptive counseling, and HPV vaccination.
At UIC, she has worked as a research assistant on two evaluation projects and one epidemiologic study. During the summer of 2021, she interned at the Chicago Department of Public Health.
Liz is interested in adolescent health, school health, STIs, reproductive justice, and increasing access to high quality contraceptive care/counseling. She hopes to work as an epidemiologist for the state or local health department.