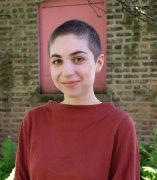 Madeline Mangiaracina
MPH in Maternal and Child Health Epidemiology
Pronouns: she/her(s) and they/them
About
Madeline Mangiaracina is an MPH candidate concentrating in Maternal and Child Health Epidemiology. Before beginning their MPH degree, Madeline worked at Resilience (formerly Rape Victim Advocates) as their Medical Advocacy Coordinator, where they were the liaison between the rape crisis center and their 17 partner hospitals, to provide institutional medical advocacy and training. In their time at Resilience, Madeline conducted over 125 hours of training to over 750 medical professionals on working with survivors of sexual violence in healthcare, providing trauma-informed medical care, and understanding the neurobiology of trauma. While working at Resilience, Madeline was an active member of the Swedish Covenant Hospital Violence Prevention Program Workgroup, the Cook County Human Trafficking Task Force Healthcare Subcommittee, and the EverThrive Illinois Contraceptive Justice Coalition.
Madeline also worked as a reproductive health assistant at Planned Parenthood from 2015-2018, where they provided comprehensive health education on procedural and medication abortion, contraceptive options, STIs/HIV, Gender Affirming Hormone Therapy, PrEP & PEP, and assisted physicians in in-clinic abortion and no-scalpel vasectomy procedures.
Madeline is also a trained and certified sexual assault and domestic violence crisis counselor in the state of IL and during their time at Planned Parenthood, volunteered as a medical advocate & rape crisis counselor with Resilience here in Chicago. As a volunteer rape crisis counselor, Madeline supported survivors of sexual violence in Emergency Department settings and provided medical and legal advocacy while working with hospital staff and law enforcement on the survivor's behalf. 
Madeline currently works with the Midwest Access Project (MAP), as their Program Associate, where they run the Individual Clinical Training Program and facilitates workshops on abortion care to medical students, residents, and the community.
Madeline's MCH areas of interests include abortion care and access, gender-based violence, improving trauma informed care in healthcare settings, STIs/HIV, and improving the quality of comprehensive, inclusive sexual, and reproductive healthcare to all people.
After completing their MPH, Madeline intends to obtain a Doctorate in Nursing Practice degree in Midwifery to pursue a career as a full-spectrum, LGBTQIA+ inclusive abortion care provider. Throughout their professional career, Madeline hopes to have a positive impact on healthcare institutions prioritizing trauma-informed care to all people and improving LGBTQIA+ inclusivity within healthcare settings and systems.
Fun Fact- Madeline used to be a ballet dancer with the New Jersey Ballet Company!
Selected Presentations
Northwestern Memorial Hospital LCSW Grand Rounds 
Understanding the Neurobiology of Trauma May 14, 2019
Northwestern Memorial Hospital LCSW Grand Rounds Screening for Sexual Violence and Responding to Disclosures June 11, 2019
Swedish Covenant Hospital Ob/Gyn Grand Rounds Providing Trauma Informed Care to Ob/Gyn Patients August 19, 2019