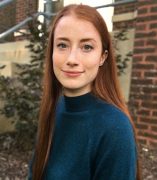 Genevieve R. Rizzo, MPH
MCH Doctoral-level Trainee
Pronouns: She/Her/Hers
About
Genevieve Rizzo is a doctoral student in the Community Health Sciences department, concentrating in Maternal and Child Health.  She received her BS in Public Health from Saint Louis University (2016) and her MPH in Behavioral Sciences and Health Education from the Emory University Rollins School of Public Health (2018). Her master's thesis used multivariate logistic regression analyses to examine sexually transmitted infection risk among detained African American girls in Atlanta.
Her previous work in maternal and child health spans across various populations and life stages. She has worked as a patient interpreter for bilingual Family Medicine and Obstetrics and Gynecology clinics, conducted clinical research trials with HIV-positive children and adolescents, and recruited participants for an NIH-funded study exploring the impact of stress on rates of unplanned pregnancies. She also assisted with a national qualitative study examining parental attitudes around corporal punishment of children with the Centers for Disease Control and Prevention. She is currently working as a research assistant on Dr. Handler's evaluation of the Illinois Breast and Cervical Cancer Program.
Genevieve's interests are within family planning, adverse childhood experiences (ACEs), maternal health disparities, and reproductive health policy.
Genevieve's dissertation research explores the relationship between ACEs and various maternal health outcomes. She is also interested in examining if and how ACEs can influence women's parenting desires, chosen contraceptive methods, and family planning decisions throughout the life course.
Fun Fact- Genevieve was a competitive Irish dancer for ten years!
Selected Publications
Klevens, J., Mercer Kollar, L., Rizzo, G., O'Shea, G., Nguyen, J., & Roby, S. (2019). Commonalities and differences in social norms related to corporal punishment among Black, Latino, and White parents. Child and Adolescent Social Work Journal, 36(1), 19-28. doi:10.1007/s10560-018-0591-z
Rizzo, G.R., DiClemente, R.J., & Renfro, T.L. (2018). Exploring associations between Theory of Gender & Power constructs and STI risk among detained African American girls [Master's thesis, Emory University]. Emory University Theses and Dissertations. https://etd.library.emory.edu/concern/etds/vq27zn51q?locale=en
Selected Presentations
Abdelrahim, R., Rizzo, G.R., Bergo, C., Williamson, D., Dionicio Bernabe, M., Navin, S., and Ortinau, N. (2020). Barriers and Facilitators to Breast and Cervical Cancer Screenings among Illinois Women. Poster presented at the American Public Health Association Conference, San Francisco, CA.
Rizzo, G.R. (2019). Sexually Transmitted Infection Risk among Detained African American Girls in Atlanta. Poster presented at the National Sexual Health Conference, Chicago, IL.
Rizzo, G.R. (2019). Michigan's Health Delivery System for Non-Pregnant Women. Poster presented at the University of Illinois at Chicago "MCH Delivery Systems" student poster presentations, Chicago, IL.