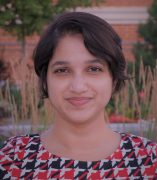 Ananya Stoller
MPH in Maternal and Child Health Epidemiology
Pronouns: She/Her/Hers
About
Since June 2018, Ananya has worked at the Center for Healthcare Innovation, a 501(c)(3) nonprofit research and education institute focused on health equity, including the area of maternal and child health.
Ananya Stoller's interest in Maternal and Child Health are within maternal health disparities and the effect of racism on birth outcomes.
She hopes to pursue a PhD in maternal and child health epidemiology and work to address the maternal and infant health disparities in the United States.
Fun Fact- She is a kitten foster and has fostered 15 kittens and cats in spring and summer 2020.