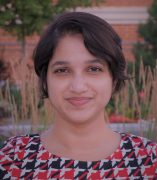 Ananya Stoller
MPH in Maternal and Child Health Epidemiology
Pronouns: She/Her/Hers
About
Ananya Stoller is a second year MCHEPI MPH student. Ananya spent two and a half years with the Center for Healthcare Innovation, a 501(c)(3) nonprofit research and education institute focused on health equity, including the area of maternal and child health. In the summer of 2021, Ananya worked with the IDPH Office of Women's Health and Family Services on a project examining preventable, pregnancy related deaths among Medicaid beneficiaries. Ananya is currently serving as a volunteer project manager for a project with the Illinois Task Force on Maternal and Infant Morbidity and Mortality Among African Americans (IMMT) Community Engagement Committee.
Her interests within maternal and child health include maternal health disparities and reproductive justice. Ananya's professional goals include pursuing a PhD in maternal and child health epidemiology and working to address the disparities in maternal morbidity and mortality in the United States.
Fun Fact- Ananya is classically trained in Carnatic music and enjoys singing and learning to play instruments!