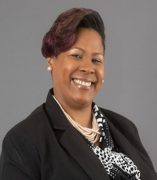 LaShonda D. Tate
MPH in Maternal and Child Health
Pronouns: N/A
About
LaShonda D. Tate is a second-year MCH trainee. She obtained her undergraduate degree from Northeastern Illinois University (NEIU) in Community Health and Wellness. As an undergraduate, she was the principal investigator for the research study, "How the Social Determinants of Health Influence Contraceptive Decision Making of Young Mothers Who Are Youth in Care." In addition to her research, LaShonda was a Quality Improvement intern at UCAN Chicago's (Uhlich Children's Advantage Network) Teen Parenting Services Network (TPSN).  While conducting this research, LaShonda was introduced to the youth-in-care population and assessed the needs of the teen parent population within the TPSN. By collaborating her internship and research study with UCAN, LaShonda was able to access and assess previous data and issues for the youth-in-care population. LaShonda's research data, results and recommendations were included in UCAN's TPSN 2019 Fiscal Year report.
During the Summer of 2020, LaShonda worked as the Maternal and Child Health intern for the Westside Healthy Start Program at ACCESS Community Health Network. LaShonda provided support to the Westside Healthy Start program by assisting in advancing their health equity practices through research-based activities, participated in the quantitative and qualitative evaluation process, and supported the quality improvement initiatives. She also gained knowledge about the ACCESS Community Health Network and Healthy Start systems, learned how to access care and services that impact the African American community, and applied skills and techniques for program planning and evaluation in a health care setting.
Prior to her undergraduate tenure, she worked in the food service and hospitality industry for 20 years. With LaShonda's vast knowledge of the hospitality industry coupled with the experience of teen motherhood, it provides her with a unique perspective and an advantage to help promote a healthy lifestyle within her community.
LaShonda's interests lie within health education and advocacy with the teen parent population in underserved African American communities. Additionally, LaShonda is passionate about increasing education and access to care for this population and erasing the stigma that involves the outcomes of the children of teen parents.
Fun Fact- LaShonda enjoys completing word search puzzles, adult coloring books, and a cold Dr. Pepper!
Selected Publications
Contributor: UCAN's Teen Parenting Services Network 2019 Fiscal Year Report, "Celebrating 20 Years in Review: Fiscal Years 1999 through 2019, July 1, 1998-June 30, 2019"
Selected Presentations
Oral Presentation: "What Factors Determine Contraception Decision-Making for Young Mothers Who are Youth in Care?" at Northeastern Illinois University's Student Research & Creative Activities Symposium in April 2019.
Contributor: UCAN's Teen Parenting Services Network 2019 Fiscal Year Report, "Celebrating 20 Years in Review: Fiscal Years 1999 through 2019, July 1, 1998-June 30, 2019"