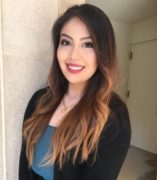 Paola Torres
MPH in Maternal and Child Health
Pronouns: She/Her/Hers
About
Paola Torres is currently a second-year MPH student in the Community Health Sciences division with a concentration in Maternal and Child Health. She received her Bachelor of Science degree in Community Health from the University of Illinois at Urbana-Champaign in May of 2016 with a double concentration in Health Education and Promotion, Health Planning, and Administration. During her undergrad experience at UIUC, Paola completed her Prenatal Internship at Francis-Nelson Health Center in Champaign, Illinois. She also worked as a Medical Interpreter. Currently, she is a Clinical Research Coordinator for the University of Illinois Cancer Center with a research concentration in breast, cervical, lung, and colorectal cancer.
Before her work at the Cancer Center, Paola worked for the Coordination of Healthcare for Complex Kids (CHECK) grant in the Department of Pediatrics. Paola assisted patients and physicians to educate, reinforce, and coordinate care plans to improve patient knowledge, self-management of chronic illnesses, and clinical outcomes. She specialized in assisting patients with sickle cell, asthma, and prematurity. Paola's public health experiences place an emphasis on patient engagement, the ability to access quality care, and disease management.
Paola's interests within maternal and child health are reproductive and maternal health and cancer screenings in the Latinx community.
Her future professional and academic goals are to help decrease maternal morbidity and mortality in developing countries.
Fun Fact- Paola owns 12 plants and loves propagating them to give to friends and family.
Selected Publications
Henderson, V, Tossas-Milligan, K, Martinez, E, Williams, B, Torres, P, Mannan, N, Green, L, Thompson, B, Winn, R, Watson, KS. (2020) Implementation of an integrated framework for a breast cancer screening and navigation program for women from underresourced communities, 126(10) 2481-2493.
Molina Y, San Miguel LG, Tamayo L, Pichardo CM, Torres P, Robledo C, Diaz LH, Ruiz IL, Sánchez Díaz CT, Arroyo J, Medina M, Coronado N, Hernandez O, Lucio A, Fitzgibbon ML, & Kroenke CH. Under review. Comparing different interventions' effects on Latinas' screening mammography and participant-driven information diffusion. Translational Behavioral Medicine.
Olagoke A, Reyes K, San Miguel LG, Torres P, Kling W, Medina M, Arroyo J, Garcia C, Coronado N, Hernandez O, Lucio A, Norris HT, Henderson V, & Molina Y. Under review. Intentional storytelling to sustain low-cost/free breast cancer services: A Latina example of community-driven advocacy. Progress in Community Health Partnerships: Research, Education, and Action.