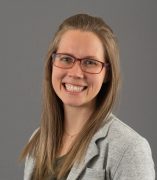 Kate Yep
MPH in Maternal and Child Health Epidemiology
About
Kate graduated from Seattle Pacific University with a BS in Physiology. After undergrad, she served as an AmeriCorps member with the American Red Cross and worked in Disaster Cycle Services where she found very rewarding work connecting victims of natural disasters to resources to help towards recovery. After this program, Kate worked as a medical assistant for a cardiologist. Upon confirming her interests lay more within the field of public health rather than clinical medicine, she transitioned to a position as a nutrition counselor with Women, Infants and Children (WIC) where she educated prenatal and postpartum women and families in breastfeeding and nutrition.
Kate is currently working as a graduate research assistant in UIC's School of Public Health assisting with quantitative and qualitative evaluation of a Healthy Start program operating in three communities on the south side of Chicago. She is passionate about improving health outcomes for mothers and unborn children and infants, and she is pursuing a career in maternal and child health epidemiology.
Fun Fact- In her free time, Kate loves baking. You can follow her baking exploits @kates_home_bakes on Instagram.