UIC CoE-MCH Irving Harris Early Childhood Forum Recap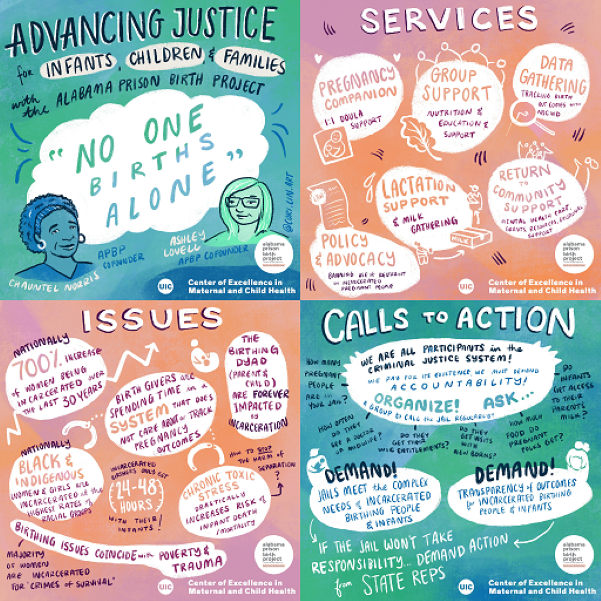 The UIC Center of Excellence in Maternal and Child Health (CoE-MCH) hosted a two-event Spring Forum on Early Childhood titled Advancing Justice for Infants, Children, and Families: Efforts to Dismantle the Preschool-to-Prison Pipeline and Restore Maternal Infant Bonding in Carceral Settings. The symposium was organized by a committee made up of graduate students and faculty from the CoE-MCH who determined the forum's theme and speakers. The forum received support from the Irving Harris Foundation, Maternal and Child Health Bureau, Illinois Birth Justice, Radical Public Health and the UIC Public Health Student Association.
The first event of the Early Childhood Symposium occurred on March 29th and was facilitated by first-year MCH student Joanna Paul and first-year MCH-Epi student Abigail Suleman. Dr. Kate Zinsser, an Associate Professor of Community & Prevention Research in the Department of Psychology at UIC, gave an insightful presentation on early childhood expulsion/discipline and disrupting the preschool-to-prison pipeline. Despite having an ambitious agenda for the one-hour session, Zinsser was able to delve into the following four main questions: 1) Why are children expelled? 2) Who is being expelled? 3) How do expulsions happen? and 4) What can be done about it? Dr. Zinsser recognized that people may be coming to the presentation with varying degrees of familiarity and background on the topic. As such, she opened the presentation by grounding the audience with important context/background about the importance of early childhood education/care (ECE). She discussed the degree to which structural racism is entangled with the preschool-to-prison-pipeline. Dr. Zinsser also explained that major gaps exist in research as it pertains to this field due to a lack of a coordinated data system and an overall lack of investment. Another key takeaway was the ways that early expulsions have detrimental consequences, not only on the futures of innocent children, but on teachers, other children in the classroom, families, and the school system at large. She closed out the talk by welcoming students to get involved with her work at UIC and invited attendees to check out her new book No Longer Welcome: The Epidemic of Expulsion for Early Childhood Education as a way to learn more about the issues raised in the presentation.
The second event, titled Justly Born: Pregnancy in the Criminal Legal System and Movement to Promote Health, Dignity, and Healing, happened on April 12th and featured Chauntel Norris and Ashley Lovell from the Alabama Birth Prison Project. The session was facilitated by Candace Gary, another first-year MCH student as well as Abigail Suleman (MCH-EPI). The session was also joined by illustrator Cori Lin who developed the following live images to commemorate the event (see images to the right). The presentation began with a quick introduction on what the experience is like for being pregnant in custody. Chauntel and Ashley went on to discuss issues regarding infant mortality and how birthing issues coincide with poverty, trauma, and chronic stress. They also introduced us to many of the services and resources that the Alabama Birth Prison Project provides in the carceral setting, including trauma-informed, gender-responsive doula services, mental health support, and lactation support/milk gathering. Because people who give birth in prison only have 24-48 hours with their baby before they have to get separated, the Alabama Birth Prison Justice plays an integral role in restoring bonds between infants and mothers through offering nurturing services that promote health and wellbeing.
For more information about the forum, please reach out to the UIC CoE-MCH at coemch@uic.edu.
Modified on May 10, 2022