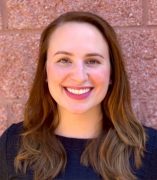 Mickie Anderson Brown
MPH in Maternal and Child Health
Pronouns: She/Her/Hers
About
Along with her role as the Irving Harris Early Childhood Scholar at the UIC School of Public Health, Mickie is a project associate at Chapin Hall at the University of Chicago. She served as a member of the JPB Mitigating Toxic Stress Study, a longitudinal mixed-methods study investigating the role of healthcare innovations in promoting family-centered care in the first year of a child's life. Mickie helped manage the quantitative data research collection of over 900 families by a team of remote field interviewers, as well as coordinated and conducted qualitative research for a sub-study focused on central referral systems that help reduce family toxic stress. Mickie is also the qualitative research lead for a study evaluating diversity, equity, and inclusion practices of the Doris Duke Fellowships for the Promotion of Child Well-Being. Mickie graduated with a BA in English and a minor in public policy from DePaul University.
Mickie's areas of interest within maternal and child health include early childhood, healthcare innovations/interventions, toxic stress/ACEs, perinatal health, postpartum care, and maternal mortality reduction.
Mickie is passionate about early childhood and the postpartum experience. She hopes to focus her career on removing barriers that complicate these stages and bringing knowledge to ensure that all women, children, and families are able to thrive.
Fun Fact- Mickie is an avid dog lover. She has a pup of her own and loves going on walks with her, even though her dog prefers to stay home and bark out the window.
Selected Publications
Spain, A. K., Anderson, M., & McCrae, J. S. (2020). Getting connected: Referrals for family support in early childhood.Chicago, IL: Chapin Hall at the University of Chicago.
Huang, L.A., Daro, D., Schlecht, C. & Anderson, M. (2019). The Doris Duke Fellowships Annual Report. Chicago: Chapin Hall at the University of Chicago.
Spain, A.K., Anderson, M., Brown, A. & McCrae, J.S. (2020). Practice bulletin: Community resources for patient referrals. Chicago, IL: Chapin Hall at the University of Chicago.