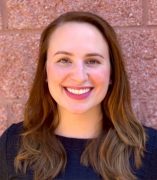 Mickie Brown
MPH in Maternal and Child Health
Pronouns: She/Her/Hers
About
Mickie currently serves as a Research Assistant for I-PROMOTE IL where she supports work focused on addressing the root causes of health disparities during pregnancy and the postpartum period. She previously served as the Irving Harris Early Childhood Scholar where she worked on the Masks for MOMS campaign to provide PPE for pregnant people and children, and on the Birth Center Task Force where she researched and advocated for state legislation to expand the number of birth centers in Illinois and midwifery-based care. Mickie also interned at Sinai Urban Health Institute (SUHI) researching and presenting MCH-related indicators to community representatives for the universal nurse home visiting program, Family Connects. Additionally, she worked at the J.B. & M.K. Pritzker Family Foundation where she collaborated with public health leaders focused on diminishing perinatal health disparities to compile suggestions for states to improve maternal and child health outcomes.
Prior to starting her MPH, Mickie worked at Chapin Hall at the University of Chicago. She served as a member of a longitudinal mixed-methods study investigating the role of healthcare innovations in promoting family-centered care in the first year postpartum. She managed the quantitative data collection and coordinated and conducted interviews for a sub-study on central referral systems focused on reducing toxic stress for postpartum people and their families. Mickie also analyzed the qualitative research for a study evaluating diversity, equity, and inclusion practices of the Doris Duke Fellowships for the Promotion of Child Well-Being. Mickie graduated with a BA in English and a minor in Public Policy from DePaul University.
Mickie's areas of interest within maternal and child health include: birth equity, infancy and early childhood, perinatal and postpartum health, birth settings, and healthcare innovations/interventions
Mickie is passionate about supporting the health and well-being of pregnant and postpartum people, infants, and families. She hopes to focus her career on removing barriers to care and eliminating health disparities to ensure that all pregnant and postpartum people, children, and families are able to thrive.
Fun Fact- Mickie is an avid dog lover. She has a pup of her own and loves going on walks with her, even though her dog prefers to stay home and bark out the window.
Selected Publications
Spain, A. K., Anderson, M., & McCrae, J. S. (2020). Getting connected: Referrals for family support in early childhood.Chicago, IL: Chapin Hall at the University of Chicago.
Huang, L.A., Daro, D., Schlecht, C. & Anderson, M. (2019). The Doris Duke Fellowships Annual Report. Chicago: Chapin Hall at the University of Chicago.
Spain, A.K., Anderson, M., Brown, A. & McCrae, J.S. (2020). Practice bulletin: Community resources for patient referrals. Chicago, IL: Chapin Hall at the University of Chicago.