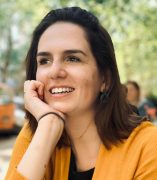 Lisa Haen, MPH
MCH Doctoral-level Trainee
Pronouns: She/Her/Hers
About
Prior to her time at UIC, Lisa worked as a community advocate at a victim-service agency in Western Pennsylvania. She primarily worked with survivors of Intimate Partner Violence, many of them single mothers who resided in local public housing on safety planning, counseling referrals, childcare, as well as legal and housing needs.
She currently works as a research assistant for Dr. Velonis, working on an evaluation of a hospital-based domestic violence/human trafficking/sexual assault response program. In response to COVID-19, her team is also currently studying how domestic and sexual violence advocates have been affected by the changes in their environments due to the pandemic, both professionally and personally.
She is also a research assistant for Drs. Arden Handler and Kristine Zimmermann, working on the qualitative data collection for their evaluation of the early implementation of Family Connects Chicago, a universal home-visiting program for new mothers and their babies in Chicago.
Lisa's main area of interest within maternal and child health focuses on the improvement of birth experiences with specific attention to birth trauma, obstetric violence, as well as trauma-related challenges that survivors of sexual assault may experience during pregnancy, labor, and delivery.
Lisa wants to further conduct qualitative research that explores various strategies to improve birth experiences and maternal satisfaction (both from a birthing person as well as provider perspective), emphasizing a human rights approach to maternity care.
Fun Fact- Contrary to most Chicagoans she has met, she loves the winter and colder season in this beautiful city!
Selected Presentations
Haen L. (2021) National Conference on Health and Domestic Violence. Poster Presentation (Abstract accepted). Labor doula care for survivors of sexual violence.
Note: (conference was supposed to take place in April 2020, but was rescheduled to 2021 due to COVID19)