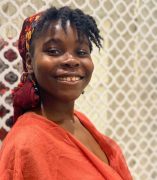 Abigail Suleman
MPH in Maternal and Child Health Epidemiology
Pronouns: She/Her/Hers
About
Abby Suleman is a current MPH student studying Maternal and Child Health Epidemiology. During her time at UIC, Abigail is interested in studying sustainable menstruation, period pain, and breastfeeding among minoritized groups. Housing and food insecurity are also areas of interest within maternal and child health. She hopes to learn more about adolescent health in domestic and global contexts.
Abby is a co-founder of Blood Buds, a UIC initiative to distribute free menstrual cups to the UIC community. Since January 2021, she has also helped students share period stories and learn about period-related topics through virtual sessions and Instagram. Her role as an ambassador for The Pad Project has additionally helped to develop her advocacy and activism in programs that combat period poverty and stigma.
After earning her MPH, she would like to work with community-based organizations and serve French-speaking African populations. This can be in the United States and abroad. With her experience, she hopes to enroll in more health training and, later, open and direct a community health center that supports youth, low-income individuals, and other socioeconomic minorities.
Fun Fact- Abby loves to walk to new places and exercise with YouTube dance workout videos. She has about 7 kids she calls her babies even though most are family friends' children.
Selected Presentations
Chang, A., Krishnakumar, D., Suleman, A. Advocating for Menstrual Equity and Sustainable Menstruation on Campus, Oral presentation at the virtual UIC Minority Health Conference 16 April 2021.
Suleman, A. From Subjects to Partners: What the Public Should Know about HeLa Cells, Oral presentation at UIC Impact and Research Week and UIC Minority Health Conference, 6 April 2021, and 16 April 2021.
Alkhateeb, R., Gary, C., Martin, J., Salau, R., Suleman, A. Filling the Gap: Reproductive Health Education for Adolescents in Chicago. Oral Presentation at the Pre-Matriculation Program (PMP) Final Presentations, 6 August 2021.